Maemo 5 Applications
Conboy is a note taking application. It is a port of the famous Tomboy written in C:.
Simple brightness statusarea applet.
Hex-a-hop is a great puzzle game in which a girl has to break all the green tiles in an hexagonal map without getting trapped. There is no time limit and no real-time element.
An artificial horizon and spirit level.
This plugin puts eyes in the desktop that provides an entertaining way to track the device orientation through a pair of moving eyes.
Ogg Support Provides Gstreamer support for various codecs and containers from Xiph.org.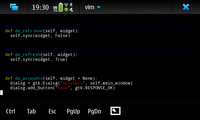 One of the most powerful console text editors.
Displays a real-time mirror image from the internal camera.
Secure shell client and server.
Secure shell server. An RSHD replacement.
Secure shell client. An rLogin/RSH/RCP replacement.
Tuner is a helper tool for tuning musical instruments.
RobotFindsKitten is a Zen simulation.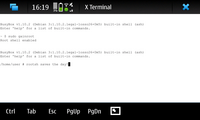 Enable root access via the "sudo gainroot" command.
Show CPU and memory usage, take screenshots, record screencasts.
OMweather is a desktop widget for the Nokia N900 that shows the current weather as well as forecasts for the next 10 days.
Stations database and source lib for weather.com.
Evernote is an award-winning service that makes it easy to remember things big and small from your life using your Nokia N900.
The ForecaWeather widget gives you weather forecasts at your fingertips.
Record and stream live video from anywhere in the world.